Lots of One Piece news and updates this week, let's cover them all, from One Piece Film Red Trailers, music videos and production of the movie and will it release in India and One Piece 25th-anniversary celebrations and announcements for Anime and Manga.
One Piece Film Red's new trailer
One Piece Film Red's new trailer was released yesterday July 22, 2022, this is the third trailer they have released for this movie and it is the best one yet.
It shows more about Uta, the new character introduced in the movie, who is touted to be Shanks' daughter, she is portrayed as this renowned singer who conceals her identity and we will discover more about her backstory and her relationship with Shanks and Luffy in the movie.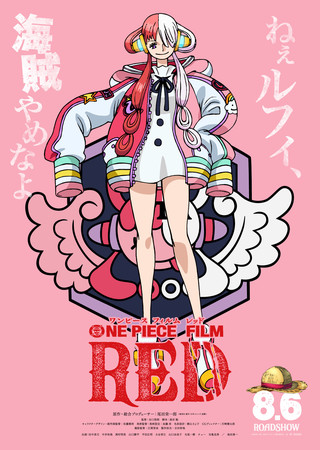 Ado's FILM RED music videos
In Japanese, Uta is voiced by Kaori Nazuka but her songs are sung by Ado, who is a young rising music star in Japan, with a lot of chartbuster songs in her discography, She has collaborated with other performers on the Uta Project for One Piece Film Red. Music videos featuring different illustrators and songs by the collaborating performers. In total, 7 tracks will be released with music videos, it is still not confirmed yet, if all seven songs will be featured in the movie, but we can see some of them being featured in the trailers that have been released.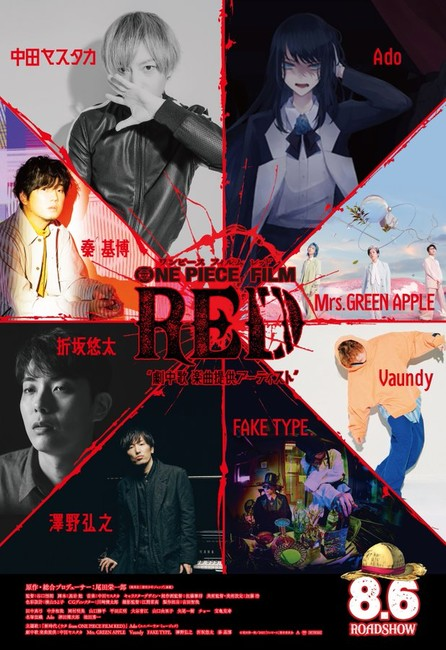 Already 3 music videos are out, listed below and they are bangers, do listen to them, both music and video visuals are fantastic, they have their production teams and they have really done great work and it has generated a lot of promotion for the movie.
June 15 – "Shinjidai" (full version) by Ado
June 22 – "Watashi wa Saikyо̄" by Mrs. Green Apple
July 6 – "Gyakkо̄" by Vaundy
July 20 – "Utakata Lullaby" (teaser) by FAKE TYPE
Future music videos and teaser release schedule, don't miss them:
July 27 – "Sekai no Tsuzuki" (teaser) by Yūta Orisaka
August 3 – "Kaze no Yukue" (teaser) by Motohiro Hata
August 6 – "Utakata Lullaby" (full version) by FAKE TYPE.
August 10 – "Sekai no Tsuzuki" (full version) by Yūta Orisaka
August 17 – "Tot Musica" by Hiroyuki Sawano
August 24 – "Kaze no Yukue" (full version) by Motohiro Hata
Production Of One Piece Film: red
Now let's talk about the movie production and the trailers, the movie is directed by Goro Taniguchi (Code Geass, BACK ARROW) and written by Tsutomu Kuroiwa (One Piece Film: Gold) at Toei Animation, One Piece Film: Red is currently scheduled to premiere in Japanese theatres and IMAX screens on August 6, 2022.
All One Piece movies have great production, great sakuga animation scenes, visuals and background art, but Film Red's visuals have been underwhelming so far based on the trailers, the animation enthusiastic fans have been critical about the composite and colour design of the movie and I agree, it does not look great compared to past movies, it really seems like a downgrade.
I really thought, when it was revealed that Goro Taniguchi is the director, who is not part of Toei, I expected something different, at least on the visual side, expected some thing like One Piece Movie 6: Baron Omatsuri and the Secret Island, which was directed by critically acclaimed director Mamoru Hosoda and was released in 2005.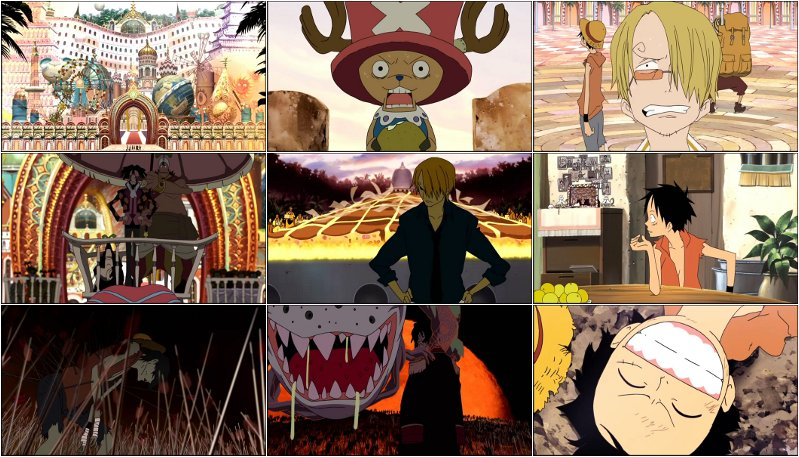 Despite being released in 2005, the movie still looks impeccable and also has a very strong story, I recommend everyone to watch it. I know these visual aesthetic complaints are not a big deal for most of the One Piece fandom and most of them don't even notice it, but its just I really wish there was something new in terms of production, especially a new character designer, could have been a great refresh from the current movie character designer (CD) Masayuki Sato, who also did character design for past many One Piece movies and specials, IMO who is polarising with his designs. some of the character design sheets from different designers are shown below.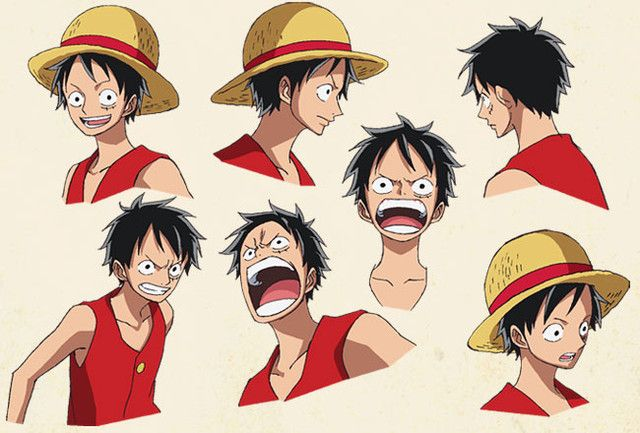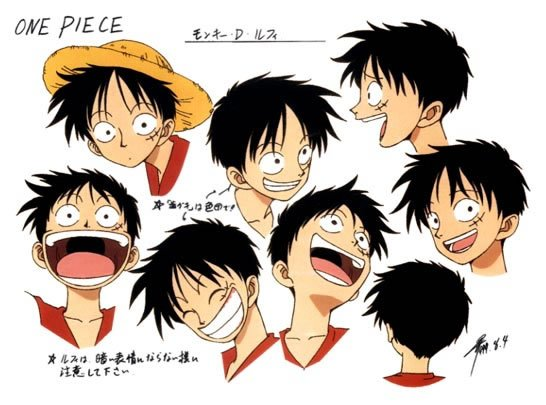 Toei made design changes for the Dragon Ball Super Broly movie, so yeah, really thought something like that would have happened.
The old trailers of Film Red make it very apparent that it has a different compositing team (T2 Productions) from Anime (Asahi Production) and a bland colour design but this new trailer, which was released on July 22, 2022, has shown some improvements with the composite, the movie seems to still in post-production, so let's wait for the final product and hope it's well polished.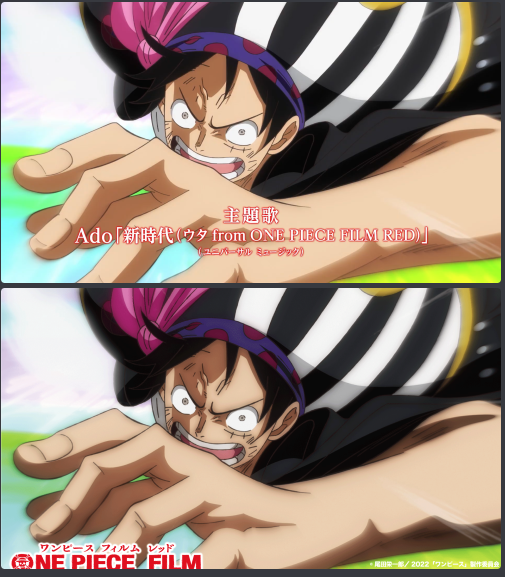 All said, the new trailer shows how story heavy the movie is going to be and how Ado's songs going to be featured in the film, which is very exciting.
One Piece Film Red INDIA RELEASE
Now the big question for Indian anime fans, One Piece is one of the biggest franchises in the world, the best-selling manga of all time with almost 500 million copies in circulation and yet so far no One Piece movie has been released in India, well it is not even licensed in Crunchyroll in the Indian region, so there is no official way to even watch the anime and even smaller known franchise anime movies have been released here, most of it was by PVR Pictures, like
and recently announced
Well it is really awesome that so many anime movies are being released in India nowadays and the recent release Jujutsu Kaisen 0 was a blockbuster in India, beating many local movie releases at the box office but In 2019, when One Piece: Stampede was out worldwide, the same year when PVR Pictures released Dragon Ball Super: Broly and Weathering with You in India, from the looks of it, its seems like big franchise movies are more expensive to get rights for screenings as expected but there was a big campaign and many thousands of signatures in change.org petition for this India release, yet sadly it was never released here.
Now here we are again in a similar predicament and but now the scene is very different, unlike Dragon Ball Super Broly release, which was distributed by PVR, the upcoming Dragon Ball movie Dragon Ball Super: Super Hero, which is scheduled to be released on August 26, 2022, but this time, it is being released directly by a big worldwide distributor, who has released a lot of anime films in many regions in the world, it is Sony Pictures India and Crunchyroll, both owned by SONY.
And guess what they also have the rights for One Piece Film Red theatrical distribution in many countries, last month it was announced that Crunchyroll and Toei Animation plans to distribute the film outside of Japan, with both subtitled and dubbed versions to screen in the United States, Canada, Australia and New Zealand this fall, so there is a very big chance that Crunchyroll and Sony Pictures will also bring the Film Red to India like they are releasing Super Hero and there is change.org petition for this too being circulated, here is a link for it, also go nag Crunchyroll, Sony Pictures India, Toei and PVR etc via comments, emails, posts for Film Red's release in India, lets hope for the best that one day, anime films will have pan-india release with regional dubs, am just kidding.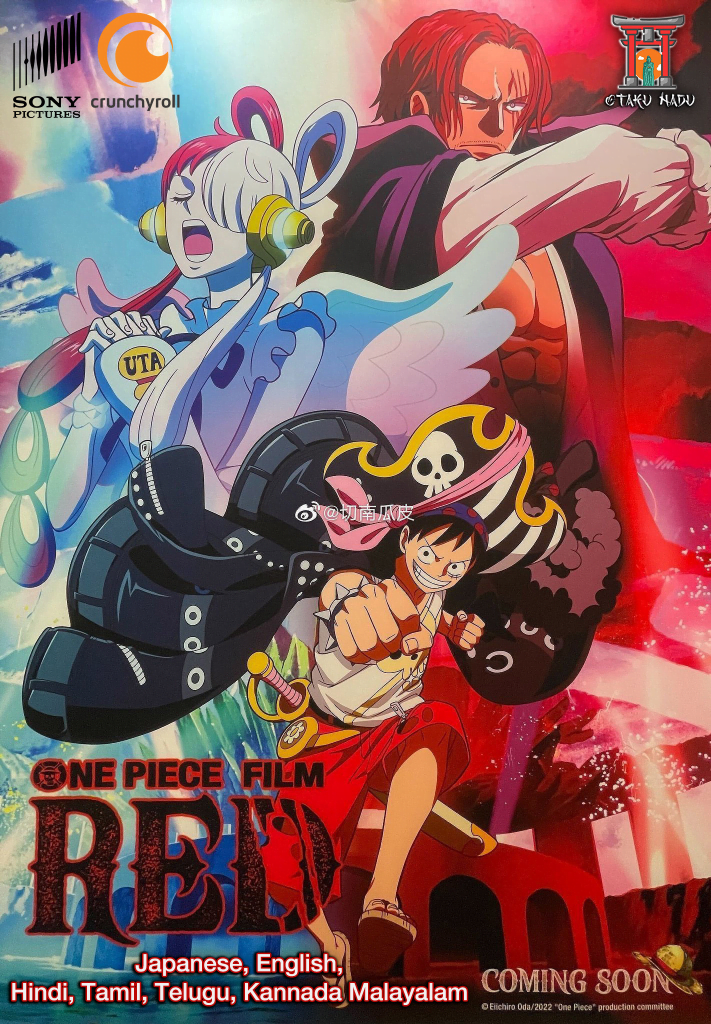 Other One Piece updates
In the other news, a lot of exciting One Piece announcements were made this week, since it is the 25th anniversary of the franchise.
The upcoming Netflix live-action One Piece revealed casting for young Luffy, who will be played by Colton Osorio and the creators also released a short video commemorating 25 Years of Franchise.
Meanwhile the Manga is entering the final saga of One Piece and anime is in Roof Piece, really exciting times to be a One Piece fan, well the truth is, it has been like that past 25 years and also be careful about Film Red spoilers, they are everywhere, some are real and some are fake.
ONE PIECE FILM RED is set to open in Japanese theatres on August 6, 2022. ONE PIECE FILM RED is described as:
Uta — the most beloved singer in the world. Her voice, which she sings while concealing her true identity, has been described as "otherworldly." She will appear in public for the first time at a live concert. As the venue fills with all kinds of Uta fans — excited pirates, the Navy watching closely, and the Straw Hats led by Luffy who simply came to enjoy her sonorous performance — the voice that the whole world has been waiting for is about to resound. The story begins with the shocking fact that she is "Shanks' daughter." Uta stands on the stage, with the ordinary wish of "Making the world happy with my music." There's Gordon, a mysterious character who knows Uta's past, and glimpses of Shanks' shadow. On Elegia, the island of music, Luffy and Uta reunite for the first time since they last met 12 years ago in Foosha Village.